A Showerdome® shower top puts a lid on your shower to stop steam and warm moist air getting out. It also prevents cold air getting into your shower, so steam clouds don't form inside. It's that simple.
Warmer, safer, more economical
With a Showerdome® shower cover, your bathroom remains dry, safe and clear while you stay warm and cosy inside your shower. You'll enjoy mist-free mirrors, prevent mould and extend the life of your paint and bathroom features. And because your shower feels warmer, you can run it at a lower temperature and save on energy costs.
There's nothing you have to remember to turn on, no running costs and no moving parts to wear out.
How much to install a shower dome in New Zealand ?  
Which type is the BEST SUITABLE DOME for my shower?
Here is the measuring guide 
Measuring guide
Showerdome® shower tops are available in a range of shapes and sizes to suit most new and existing showers. Each model is designed to be trimmed during installation to precisely fit your shower. The guide below shows how to measure the dimensions for ordering. If you're using one of our certified installers, they'll check you've selected the most appropriate model before beginning installation.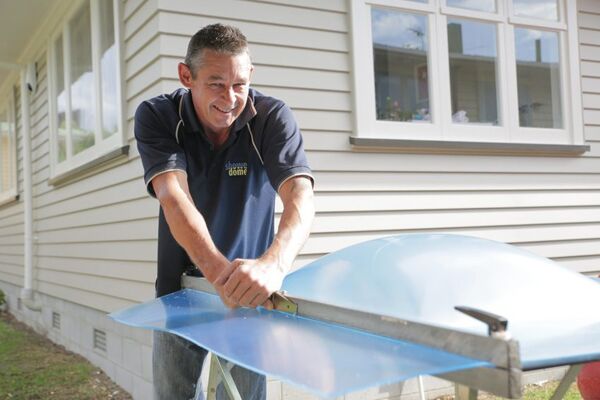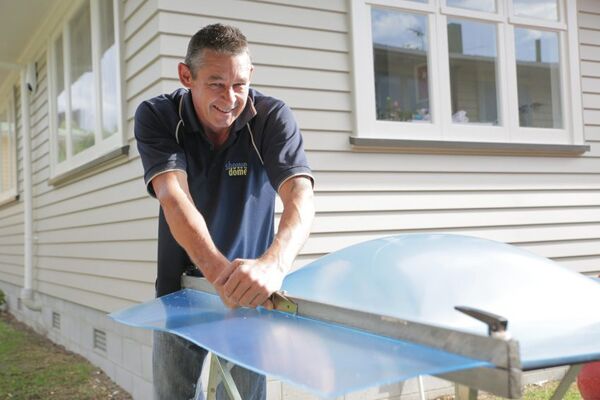 Measuring your shower
Note the shape of your shower, then follow these easy steps to measure as accurately as possible. It will help us to provide the right model for your shower.
How to provide accurate measurements
Stand inside your shower.
Place your tape measure in the middle back corner, where side A meets side B.
Measure side A from the corner to the inside of frame (if there is one).
Repeat for side B 
Where to buy a shower dome?
Once you have the correct code for your shower.
Click here to check the resellers in Auckland area, it may worthy to give a ring to check the stock level for the type of shower dome which suit your shower. It is easy to get it from Bunnings, Mitre10, Mico, Chesters etc.
Or you can order the dome directly from shower dome at price $299 GST inclsuive.

How much to install a shower dome?
1.If you decide to install yourself, here is a link of installation guide which will teach you step by step how to do it.
2. Or you can find a shower dome certified installer to do the job, the standard cost for the installation is approximately $150,it vary from one installer to another depend on how far your property is, etc.
3. Post the installation job online through online job platfrom  Builderscrack, My task etc, get people who have interest to do the job to communicate.
Does shower dome really work?
Look at a piecce of report click here, to read comments for home owners who had shower dome installed from consumer.org.nz.
shower dome prices
Retail price in shop $299 GST inclusive or buy online from Showerdome website $299, click here to order
Shower dome installation and how to install shower dome   
DIY friendly or get tradie to help, installation labor cost is between $100-$200
Shower dome sizes
13 shapes and size of shower dome to choose from
Shower dome review
Check Shower dome google review
Shower dome for corner shower
Diamond shape shower suitable tape T800S or T800L, curved shower suitable dome C700S or C700L.
Shower dome installers Auckland
Check from Shower dome website for installers contact or post job online( Builders crack, wedo etc)
Shower dome vs steam stopper
Shower dome and Steam Stopper are the two major dome brands in New Zealand.
How does a shower dome work and shower dome installation video  
Click here to read more about the shower dome and video
Shower dome stockists
Click here to find one of them in shop.
Shower dome measurements
Click here to read step by step method to measure the shower and find the best suitable dome type for your shower