Royal Glass provide customized and measure to fit glass splashbacks,glass splashback can be used in kitchen, laundry, feature wall. Glass splashback colours options please refer to Resene, we use Resene paint for our colour glass splashback.
Toughened glass is extremely easy to clean and is available in a huge range of colours, mirrored styles and prints. Glass splashbacks in a kitchen are toughened to ensure that they can withstand the heat from all types of cooktops. Tile grout can be time consuming to clean and collects grease, stains & dirt.
Glass is a natural conductor for light, so when a feature LED strip or spot is cast onto the glass, a cool effect is created. The colour is illuminated and diffused across a large area.
Contact Royal Glass team today, we will guide you through on selecting the splashback and offer you the quote, on acceptance of a quote we will conduct a final accurate measure. 
Whether you're designing a kitchen, bathroom, laundry, entrance way or wall-art, Royal Glass gives you exceptional freedom. We can paint any colour or print any image directly onto the back of toughened glass. 
FQA on customized glass splashback
While "clear" is in its name, clear glass is not the clearest type you can get.
Although clear glass does not have substantially high iron content, it is higher than low-iron glass. Due to this higher iron content, clear glass has a greenish tint. This is a result of the natural presence of iron oxide from elements such as sand, or from the cask or container in which the glass was actually melted. Despite being a logical process, this quality can cause issues.
If you're looking to have the glass back-painted or coated a specific shade of light color, we would recommend you to upgrade to low iron glass. 
The thickness of glass we use is 5mm/6mm typically.
Color Painted Glass Splashback
Digital Printing
Glass Splashback
Mirror Reflective
Glass Splashback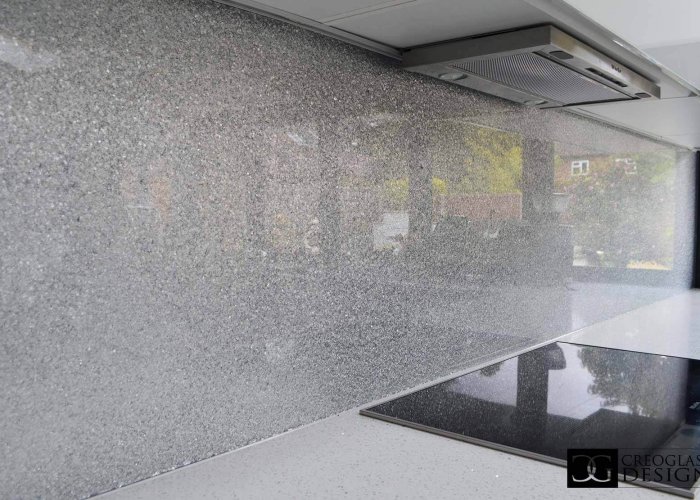 Metallic Finish
Glass Splashback
Find something interesting? talk to one of our friendly staff