Frameless Glass Pool Fence Collections
Royal Glass provide customized pool fence solutions, glass pool fence Auckland wide services. Browse on our website for glass pool fence ideas. When design the
glass pool fence talk to your architect or builders to understand the pool fence requirement and make sure the design comply with swimming pool fence regulations
in NZ. The glass pool fenc height 1200mm above the finished floor level.
2021 FQA of frameless glass pool fence
Pre-formed Concrete Pool Fence
Pre-formed concrete is an elegant and stylish design which may be used around your swimming pool, garden, or even any other concrete slab in which you devote a good deal of time. The plan goes all the way to the ground since the panels have been inserted into a groove within the concrete.
Minipost Design
Glass Pool Fence
Glass is cantilevered on mini stainless steel post 1000mm from all finished surfaces (tiles, pavers, decking, and planter boxes .etc)
Benefits:
• The Balustrade doesn't have effect on the drainage of water
• Leaves, debris and water simply filter under the glass
Aluminum Channel
Glass Pool Fence
Side Anchor Fixing
Glass Pool Fence
Double Disc Glass Pool Fence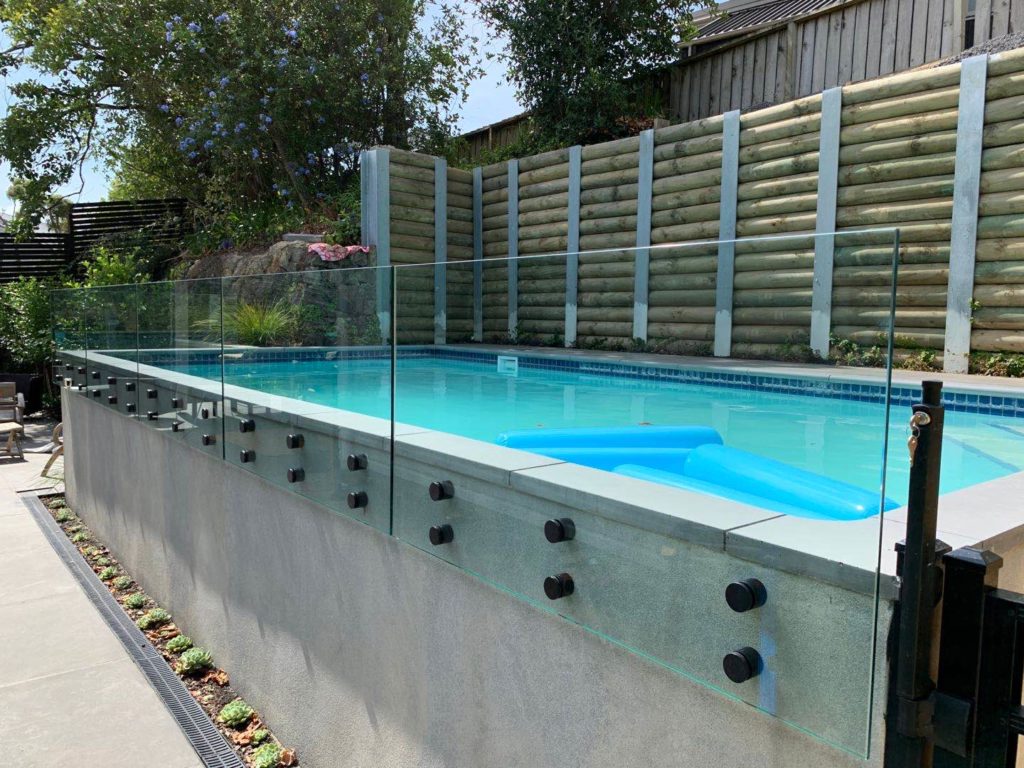 This way is vulnerable to some movement. Royal Glass encourage the major builder to take additional caution when preparing the sub floor straight to minimise possible motion.
Royal Glass do not offer any engineering information in relation to concrete structure and makeup, this is expected to be sought independently by the customer if any questions exist in this region. The client is to realize that base structures are the duty of this"principal contractor" or preceding builder and Royal Glass will require no responsibility for motion at the glass caused by structure motion.
Under Deck
Glass Pool Fence
Clean lines and an elegant design are the principal characteristics of the under deck mounted channel fence. Since all of the mounting is located under the deck, you can conceal the hardware from sight. There's the option of putting a door/gate along the wall too so that you have a way of entering and exiting to the other side.

Royal Glass is Auckland City Council approved Glass barrier installer ( Author number PSA122632 )
Here is how the double disc design finish job look like, the stanard fittings are silver polished finish, glass clear. We do office black powdercoated fittings and tinted glass options.
Benefit of using glass balustrade
Glass balustrade is so popular in home design, make the space looks larger than it really is.
Glass balustrade allow the natural light come through to the room and it willnot block the view.
Glass balustrades look fabulous, they are also easy to keep clean and maintain.
Glass balustrade is made of thick, tempered glass and  it takes extreme structural pressure to break these strong balustrades since they are often as strong as steel.
FQA on glass balustrade?
Q: What is the difference between a Balustrade and a Fence?
A Balustrade is a barrier in any building element intended to prevent a person from falling and to retain, stop or guide a person. A Fence is a barrier for all other situations where there is no fall – e.g. a Pool Fence. Reference to the New Zealand Building code and Acceptable Solutions must be referred to for full details.
Q:What height does a balustrade need to be to comply with the building code?
 The minimum balustrade heights are as indicated on Table 1 of the Acceptable Solutions F4/AS1 available here. "Detached dwellings" are typically the interior and exterior of a residential dwelling.  "All other buildings" apply to all other building situations. Reference should also be made to the current New Zealand Building Code, in particular Clause F4, for a full guide
Q: Is a balustrade required if the difference in level is less than 1.0 metre?
In these situations, a balustrade is not required by the New Zealand Building Code, however if a balustrade is installed is must comply with the balustrade loads as indicated in the Guidance on Barrier Design issues by the Ministry of Business, Innovation & Employment (MBIE).
Q:How do I know my balustrade will comply with the building code requirements for a balustrade?
Royal Glass can provide a producer statement for our proprietary methods, to certify the balustrade design is fully compliant with the New Zealand Building Code. This certificate is available from your local Authorised Fabricator or Specifier.
Q: What information do I need to provide to get a balustrade quote?
Style of balustrade,layout of the deck (including the deck edge dimensions) and the number of balustrade metres required, details on the substrate that the balustrade is to be attached to, location of job etc.
Q: How safe are my balustrades, will they keep my family safe?
All the systems are tested and assessed by independent engineers to exceed the requirements of the AS/NZS standard.
Q: The area I need a balustrade for is a unique shape (or size), will that be a problem
No, all our balustrades are custom made for each individual customer's project, they are measured, fabricated, colour coated and installed to fit the area and so are suitable for most building applications.  This flexibility means customers can work with the balustrade dealer to get the look they really want for their individual home. 
follow below link to find out whether do you need a building consent for your balustrade.
https://onlineservices.aucklandcouncil.govt.nz/councilonline/decisionToolProducts#